Back in office after three weeks holiday I would like to show you now one of the high level results doing all these interoperability tests in the domain of ePassports. Today a German consortium (i.a. Bundesdruckerei and Secunet) won a tender for biometric-based eGates rolled out across the country in the next years at several airports. These eGates use well-known protocols as Basic Access Control (BAC) or Supplemental Access Control (SAC) to establish a secure channel between reader and smart card of ePassport via ISO 14443 interface for contactless smart cards. An automatic border control (ABC) like this allows passengers in less than 30 seconds to pass the gate. Currently you can find an alternative of such systems at the airport in Heathrow.
The following figure shows a typical simplified workflow of such a border control system: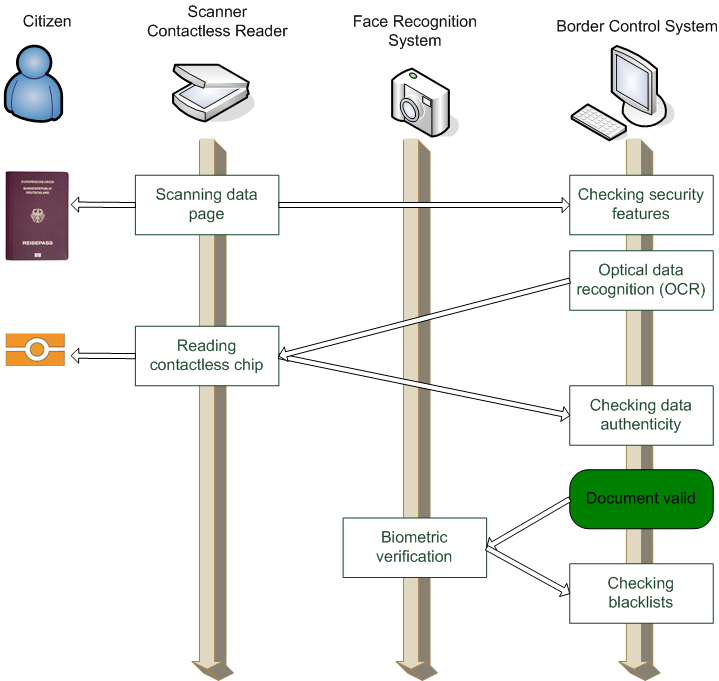 To reduce waiting time for passengers the system is using an automatic process. At the beginning the citizen is passing the gate by showing his ePassport. An inspection system scans the machine readable zone of the data page to derivate a cryptographic key to get access to the contactless smart card. As soon as all data groups of chip are read, the inspection system verifies the authenticity of the data to assure validity of the current ePassport chip. In the meantime the face recognition system scans the citizen to get a facial image of him. This image is being compared with the facial image of the chip (biometric verification). If both images are similar and the ePassport is not blacklisted, the citizen can pass the gate.